Ciao dame 🙂
Danas možete vidjeti još jedan predivni Catrice lak. Ovaj put je riječ ustvari, o u potpunosti neodoljivoj kolekciji.
Trebam napomenuti da želim sve nijanse iz ove Brown kolekcije? 🙂 Ipak morala sam odabrati jednog. Ovaj mi je ipak najljepši i najposebniji. 🙂
Predstavljam vam Goddess Of Bronze, s kojom ću se znam, jako često družiti ovu jesen.
U kolekciji su još:
01 Fashion Addicted
02 Sophisticated Vogue
04 Unmistakable Style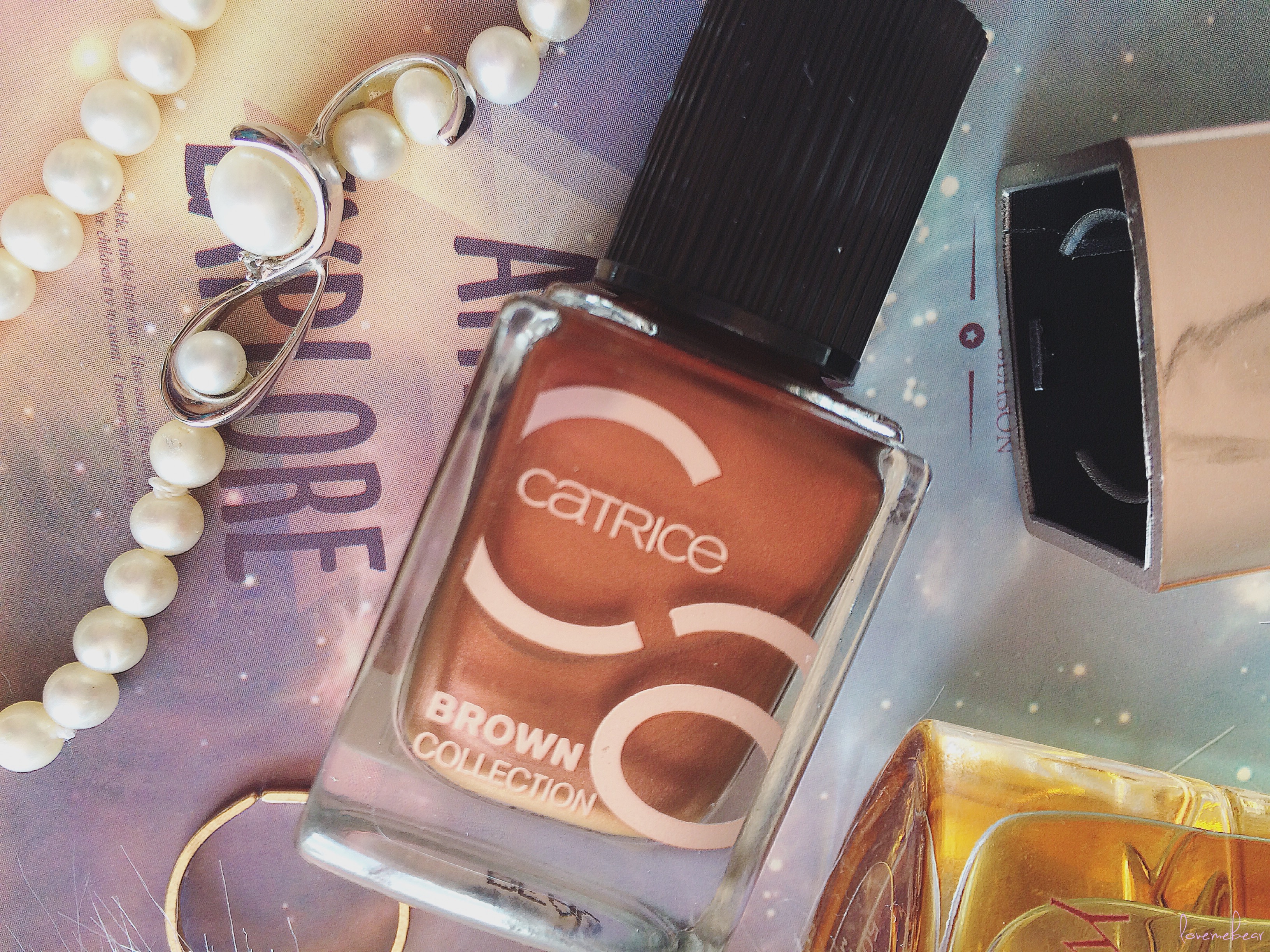 Stvatili ste već, 😀 jako mi se sviđa ova kolekcija. Volim ove brownish/čokoladaste boje. Elegantne su, ne prenapadne, prave jesenske a kažu i jako moderne. 😛
Čokoladni stav. Za krajnji izgled s modne piste: smeđa boja trenutno osvaja modni svijet i prisutnija je više nego ikad. Formula s visokim prekrivanjem u različitim smeđim tonovima obogaćena je acai uljem i pruža savršenovisoki sjaj. Sa i bez shimmer efekta, lakovi za nokte omogućuju stvaranje beskonačnih stilova noktiju.
Goddess Of Bronze je lijepa brončana boja.
Jako se mijenja ovisno o svijetlu na kojem ga gledate. Prva fotka laka na noktima je slikana vani na svijetlu a druga u zatvorenom.
Anyway, nikad mi ne baca tako jako na narančasto, kao na nekim slikama koje sam vidjela na internetu, već meni uživo izgleda više čokoladasta, duboka, tamna. Ima lijep sjaj.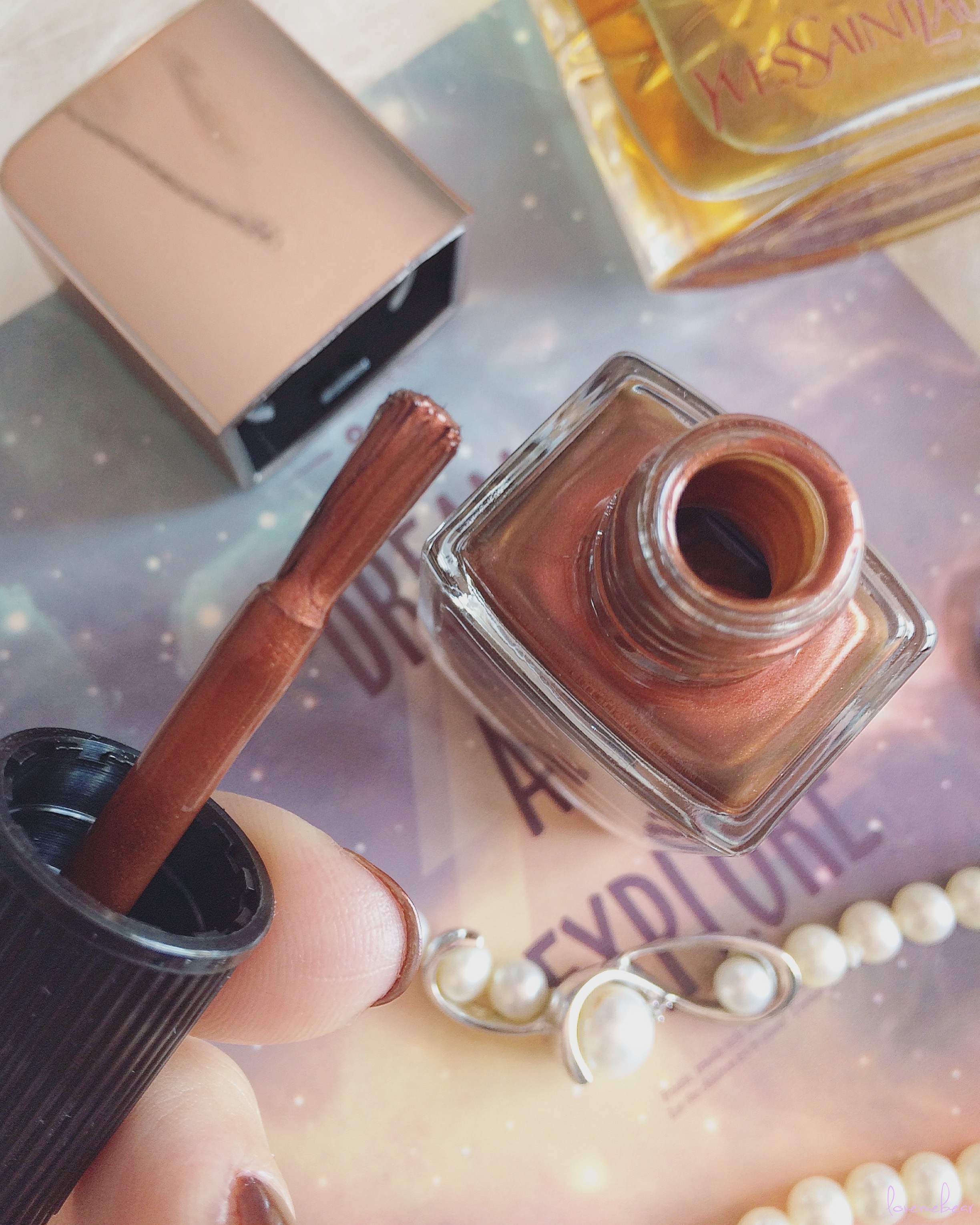 Dobro prekriva. Dovoljan je i jedan bolji premaz, ali boja je daleko ljepša, s dva premaza.
Bočice Catrice lakova su mi sve ljepše i elegantnije. Ova rosé zlatna bočica je jako privlačna.
Vanjski čep se skida a ispod njega je crni, rebrasti, koji lijepo sjeda u ruku i tako olakšava nanošenje laka.
Četkica je šira, malo zaobljena na vrhu, meni baš odgovara upravo ovakva.
Trajanje, danas mi je treči dan na noktima još je u super stanju. 🙂
Lakovi iz ove linije su obogaćeni acai uljem.
Acai ulje je dobro primjenjivati u njezi suhe, ispucale kože, kožu duboko hidratizira i vraća joj elasticitet. Ima anti-age učinak, snažan je antioksidans.
Sastojci:
ETHYL ACETATE, BUTYL ACETATE, NITROCELLULOSE, POLYESTER-23, ACETYL TRIBUTYL CITRATE, ISOPROPYL ALCOHOL, MICA, STEARALKONIUM BENTONITE, EUTERPE OLERACEA FRUIT OIL, STYRENE/ACRYLATES COPOLYMER, ADIPIC ACID/NEOPENTYL GLYCOL/TRIMELLITIC ANHYDRIDE COPOLYMER, DIACETONE ALCOHOL, SUCROSE ACETATE ISOBUTYRATE, ACRYLATES COPOLYMER, SILICA, PHOSPHORIC ACID, CI 19140 (YELLOW 5 LAKE), CI 77491 (IRON OXIDES), CI 77499 (IRON OXIDES).
Da li se vama sviđa ova kolekcija? Koja vam je omiljena nijansa? Volite Catrice kozmetiku? Meni je Catrice stalak često omiljeno mjesto opuštanja s kojeg se uvijek može nešto odabrati bez straha od bankrota. 🙂
Cijena 10,5 ml – 21,90.