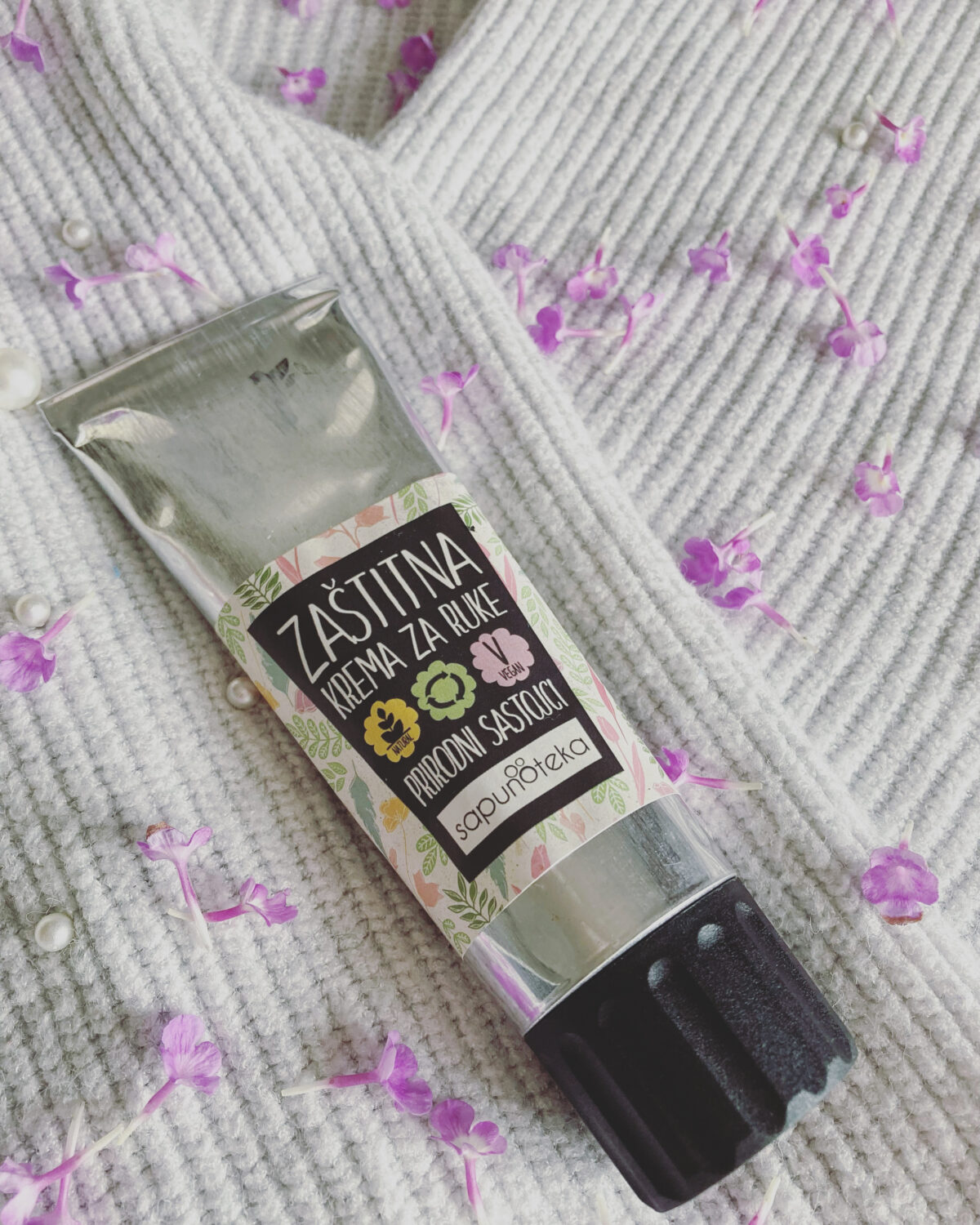 Ciao svima 🙂
Još jedan post o još jednoj kremi na kojoj sam izgleda zapela. Odgovara mi i kupujem je već neko vrijeme.
Sviđa mi se aluminijska tubica, osim što dobro čuva sastojke kreme, savitljiva je i lako se istiskuje do kraja. Poklopac je čvrst može i u torbicu bez straha od razlijevanja. Volim ovaj jednostavan, vintagy izgled.
Tekstura joj je lagana, pomalo vodenasta, super lako se razmazuje i upija. Ostavlja lagani film na koži ali čak ni meni mrzitelju svih filmova na rukama, ne smeta, nije mastan, ljepljiv ni težak, tek malo zagladi kožu.
Miris je lagan, nježan, meni drag, miris lavande.
Ruke perem nebrojivo puta a između tih pranja pere se suđe, rublje… uz naravno zaboravljanje na rukavice barem polovinu puta, zbog čega mi ruke, ionako suhe, često budu u lošem stanju. Što mi se najviše sviđa kod ove kreme je to da mojim suhim i ispucalim rukama pomogne doslovno nakon prvog mazanja, olakšavajući neugodan osjećaj suhoće i zatezanja. Odmah zagladi i omekša grube djelove. Daljnjom upotrebom kožu dobro njeguje, održava je mekom i zdravom. Dovoljna je mala količina i ne osjećam da je stalno ponovno trebam stavljati. Dok je koristim nemam problema ni s noktima ni zanokticama.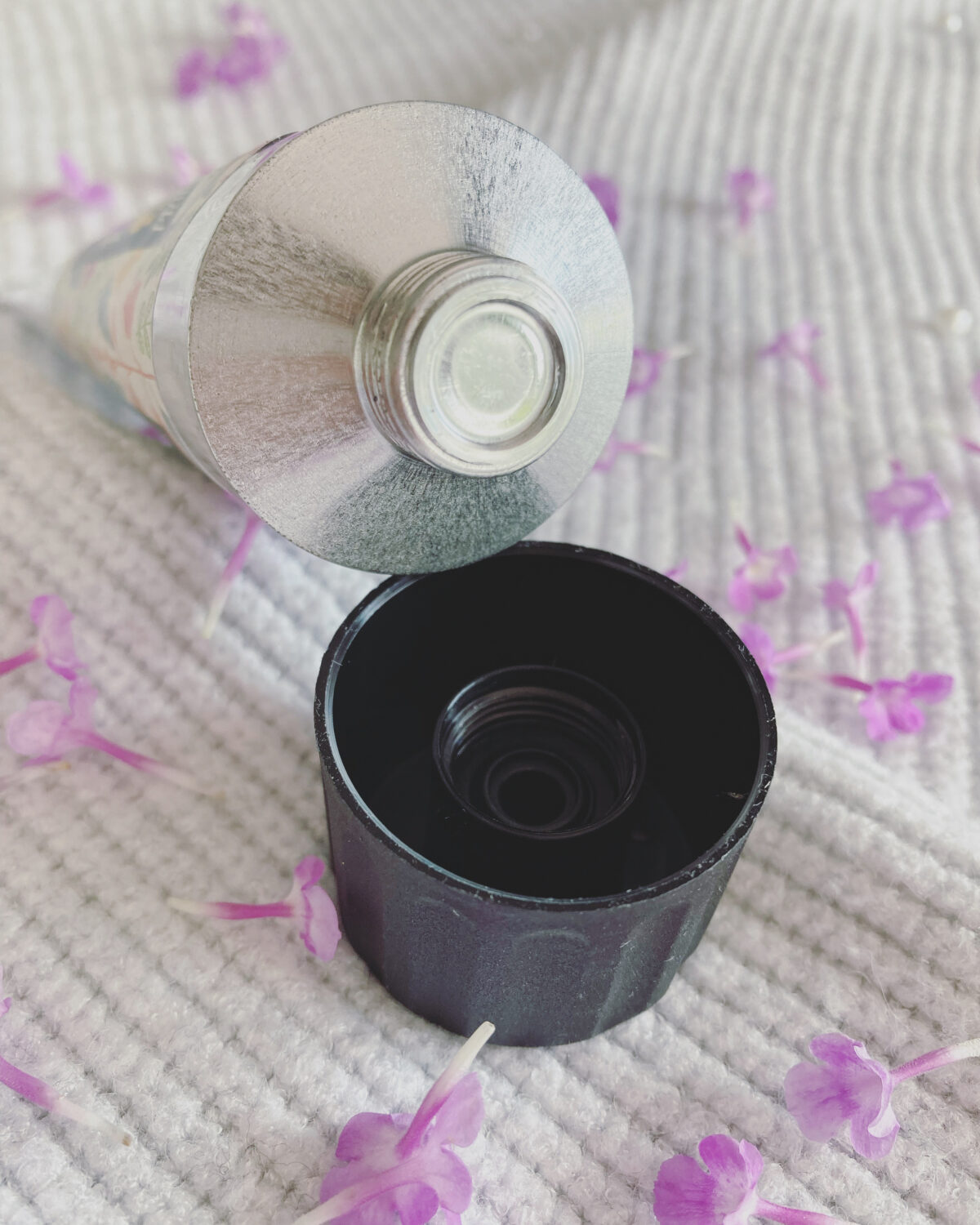 Minus joj je to što kad su mi ruke baš jako suhe i ispucane, kad je stavljam prvi put osjećam peckanje neko vrijeme, čini mi se da se tako malo osjeti alkohol u njoj? Brzo to prođe i već sljedeći put ne osjetim isto.
Voljela bih probati i druge Sapunoteka kreme za ruke, npr. Badem & kakao zvuči preinteresantno i malko mi se više sviđa njen sastav 🙂 ali ova mi se nekako uvijek nađe pred očima i tako je na ruku skupiti je usput, dok čekam u redu, u Lidlu da je se ne mogu riješiti 🙂 a kako trenutno dobro obavlja svoj posao nekako se i ne trudim komplicirati trežeći nešto drugo.
Cijena je oko 15 kn.
Koja je vaša trenutno omiljena krema za ruke? Da li ste probali ovu kremu? Tko još nema vremena tražiti okolo i misli da trebamo sve Sapunoteka kreme za ruke na dohvat ruke u Lidlu da ih možemo sve isprobati?
Sastojci:
Aqua, Cetaryl Alcohol, Glycerine, Butyrospermum parkii (Shea Butter), Propanediol, Helianthus Annuus (Sunflower) Seed Oil, Ricinus communis (Castor) Seed Oil, Sodium Cetearyl Sulfate, Dehydroacetic Acid (and) Benzyl Alcohol, Lavandula Hybrida Oil, Citrus aurantium dulcis (Orange) Peel Oil.