Melem, dobri stari Melem jedan od onih vjernih prijatelja koji vas nikad neće iznevjeriti, ni ostaviti oštećenih, suhih ruku.
Uvijek ga imam na dohvat ruke, kod kuće i vani.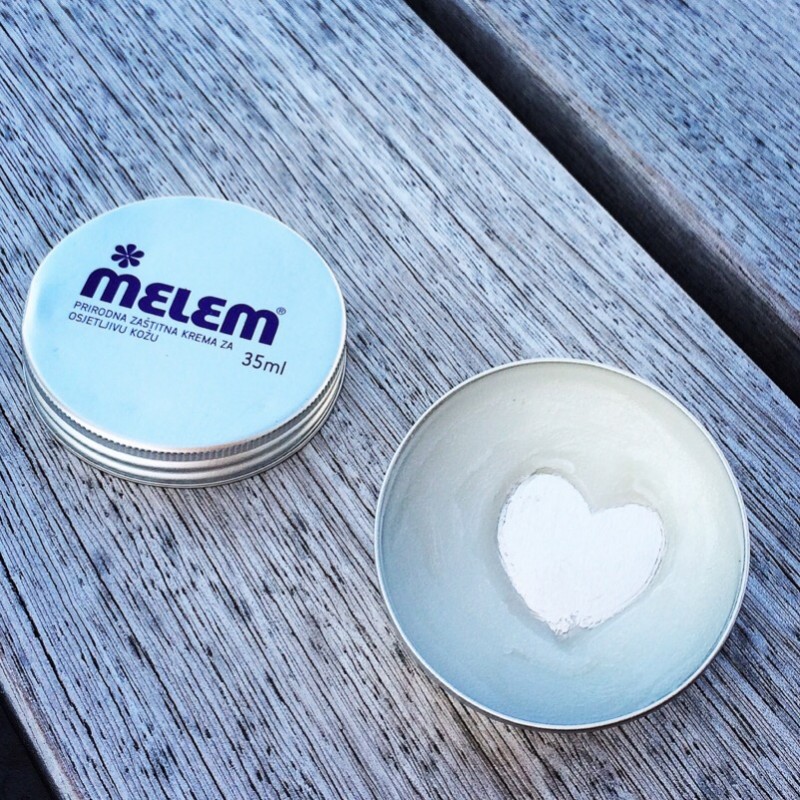 Volim imati njegovane ruke, pa sam probala dosta kremica, od onih koje nakon par korištenja želim baciti i zaboraviti da sam ih ikada vidjela do onih predobrih, predivnog mirisa i pakiranja, koje mjenjam i stalno koristim, a tu je i Melem koji je uvijek prisutan da pomogne kad je najgore, bez puno komplikacija i pompe, sigurno i brzo.
Najdraži mi je ovaj u kutijici od 35 ml (postoji i pakiranje od 10 ml), jer najzgodnije je za korištenje i stvarno jako dugo traje a pakiranje je iako jako jednostavno ipak elegantno.
Povremena posebna girly šarena izdanja ne bi bila loša ideja 🙂
S pakiranjem u tubici nikako da se nađem, za mene je pregust pa mi ako ga želim koristiti treba pomagač čvrste ruke za istiskivanje 🙂
Usput, ovo srce u kutijici Melema se vjerovali ili ne dogodilo slučajno, ja sam ga samo malo popravila prije fotkanja 🙂
Cijena je 36,90 (35ml), 19,90 (10ml), 49,90 (50ml).
Ako ste mojih godina, vjerovatno je jedna od prvih kremica koje ste probali, koju su uvijek imale baka i mama i vjerovatno bi je i vi imali dugo dugo….
da niste došli da ideju da čitate beauty blogove i pišete svoj beauty blog. I naravno u tom procesu naišli na mnoštvo kremica i kremica i krenuli čitati o njihovu sastavu, dobrobitima i štetnostima, pa ste u svemu tomu i potrazi za onom idealnom nekako nekako zaboravili Melem 😀

Melem, good old Melem, one of those friends that will never let you down and leave you with damage, dry hands.
I always have it near, on my fingertips.
I like to have nurtured hands so I tried lot of creams, from those which after few times I wanted to trash and forget I ever saw to those that are very good, beautifully scented, with beautiful package, which I like to rotate from time to time and use, and there is Melem, which is always there to help when is worse, without lots of complications and pomp, safe and fast.
I prefer this one in the box of 35 ml, (there is box of 10 ml too), because it's most convenient for use, and it lasts really long time and packing is though very simple still elegant. From time to time some special colorful girly edition would be so good idea:)
There is even Melem in tube 50 ml, that just doesn't work for me, it's to dense, and impossible to use without strong hand helper.
By the way this heart in Melem happened by accident I only fixed it a little bit to do the photo.