Until a few years ago i was buying children's shampoos and creams even though I did not have a baby. It was because of their good smell, packaging, color and mountain of foam produced, they were more attractive than those appropriate to my age and needs. There was no torture thinking about composition, because how can it be softer and healthier than the one intended for babies? 🙂
I often buy children's cosmetics but now it's for one baby and the way in which i pick them is completely different. Do not care about packaging and smell, indeed less odor in the product the healthier it is, because my baby smells like the best perfume in the world (ok a little fall in the accessories with a few product free teddy bear, bunny, groundhog … because hey no more baby joy than when the house suddenly welcomes a new toy: P).
The most important thing is that the cosmetics are gentle, with the least possible harmful ingredients and the smell, color, foam from the beginning of the story, they just have to not promise too much things because they often mean just the presence of some add-ons that for the baby skin care are not important at all.
At first i was mad and afraid about all the ingredients i could read on them because given the time everything will be declared hazardous or unhealthy.
I took 100 percent natural creams for the butt and did not have any good effect, I used the wet creams, baby powder, cotton diapers… Now, after the initial madness dwell on looking for unknown ingredients on Skindeep checking for the list of dangerous components I avoid parabens, formaldehyde, phthalates, sodium lauryl sulfate… ok still crazy but I'm trying to control the craziness : P
First, the most important: no problems or irritations these products (the baby has two years and normal skin).
The common ingredient for all of these products is Uriage thermal water which is bacteriologically pure, naturally isotonic, moisturizes, soothes, is anti-inflammatory, rich in minerals and elements traces.
Since it is a product line they also have delicate floral scent that stays long on the skin. The hair smelled good a little bit longer but it is light and you will feel it only when your nose is very near to the little head.

Uriage 1ére Créme
Uriage first cream – hydrating and soothing, nourishing face cream.
It is intended for daily facial skin care of newborns, infants and children. It is suitable for normal, sensitive and dehydrated skin. 
Strengthens the hydro-lipid layer of the skin and stimulates the synthesis of lipids in the skin.
Without parabens and phenoxyethanol. Hypoallergenic and non-comedogenic.
Even if it is intended for everyday care, (the packaging says that it can be applied morning and evening on clean skin), I still use it only occasionally because it does not seem necessary to lubricate my baby every day, i have the luck that my baby does not have any skin problems.
Now the baby is bigger nevertheless is increasingly needed because my little angel wants to copy her mother and asks her face cream when he sees that mom puts the cream, so we need a suitable sensitive baby's skin cream :).
It's very light, non-greasy texture. It is very easy to spread and quickly absorbed into the skin.
Does not leave any marks on the skin in addition to a fine gloss.
Ingredients:
aqua (water), cetearyl ethyhexanoate, uriage thermal spring water, glycerin, butyrospermum parkii (shea butter), cetyl alcohol, hydrogenated polyisobutene, glyceryl stearate, octyldodecyl pca, peg-100 stearate, polymethyl methacrylate, polysorbate 60, dimethicone, parfum (fragrance), acrylates/c10-30 alkyl acrylate crosspolymer, chlorphenesin, piroctone olamine, tromethamine, xanthan gum, o-cymen-5-ol, butylene glycol, centaurea cyanus flower water.
40 ml – 75 kn (11$)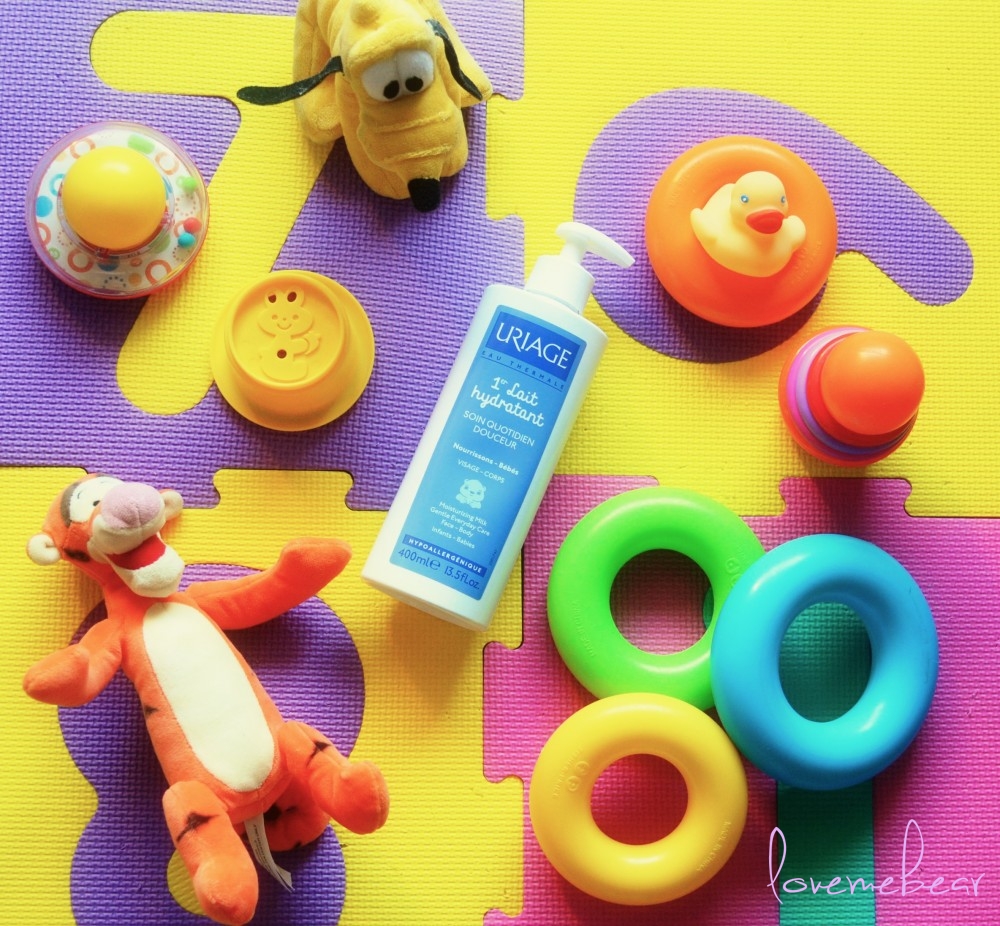 1er Lait hydratant
Uriage first cream moisturizing milk for the face and body of babies and children.
Light texture, rapidly absorbed. It leaves not the skin greasy, but only hydrated and refreshed.
We use it occasionally (I'm a little bothered by this PARAFFINUM liquidum high in the composition), a smaller amount (we use a little amount because the smell is a little stronger than the other and a little funny) in our little ritual pats after a shower and in the process protect the delicate baby's skin from drying hard water.
Ingredients:
Aqua (water), uriage thermal spring water, paraffinum liquidum (mineral oil), butyrospermum parkii (shea butter), hydrogenated polydecene, glycerin, cetyl alcohol, dimethicone, polysorbate 60, shorea stenoptera seed butter, tromethamine, parfum (fragrance), acrylates/c10-30 alkyl acrylate cross-polymer, chlorphenesin, diazolidinyl urea, sodium acrylate/sodium acryloyldimethyl taurate copolymer, isohexadecane, tocopheryl acetate, polysorbate 80, sorbitan oleate, aloe barbadensis leaf extract.
400 ml – 124 kn.
Créme lavante
Uriage sparkling emulsion for washing newborns, infants and children.
It is intended for daily gently washing the face, body and hair, as it contains 1/3 nourishing milk, cleans and nourishes the skin and protects the hydro-lipid layer of baby's skin.
Light texture, created a lovely soft foam, which easily washes (very important information for all those moms / dads whose babies hate have pouring water over their heads, as my baby does 😛
Proved on mommy, does not dry out the skin and does not irritate the eyes. According to the baby's skin and hair is gentle and non-drying, however for this second part, i can not be absolutely sure because my baby screams if the water itself goes near the eyes so I have to be careful that not even a drop of water and shampoo is in her eyes.
Leaves the hair beautifully clean and fragrant, airy and luminous, like it was meant to be 🙂
The emulsion is paraben and soap free.
Hypoallergenic, non-comedogenic. Physiological pH (pH=6). Ophthalmologically tested.
Ingredients:
Aqua (water), uriage thermal spring water, magnesium laureth sulfate, decyl glucoside, glycerin, cocamidopropyl betaine, parfum (fragrance), styrene/acrylates copolymer, sodium chloride, peg-120 methyl glucose dioleate, dmdm hydantoin, citric acid, shorea stenoptera (shorea stenoptera butter).
500 ml – 130 kn(19$)
1er Shampooing
Uriage first shampoo for babies and kids.
Free of parabens, soap, phenoxyethanol, silicone, sulfates and phthalates. Physiological pH (pH=6).
To avoid any repetition, 😉 everything i wrote above for Créme lavante applies to this shampoo, except that I definitely prefer to ones in bottle with pump, especially because I never have both hands free when i am with the baby.
Ingredients:
Aqua (water), Uriage thermal spring water, sodium cocoamphoacetate, sodium cocoyl glutamate, sodium chloride, caprylyl/capryl glucoside, ceteareth-60 myristyl glycol, citric acid, parfum (fragrance), sodium benzoate, coco-glucoside, glyceryl oleate, polyquaternium-10, sodium acetate.
200 ml –  70 kn(10$)
How do you choose cosmetics for yourself and the baby? Do you buy some baby product for yourself or prefer to borrow cosmetics from the baby? What's your favorite?
* Promotional products