Ciao 🙂
Eos strawberry sorbet je balzamić koji sam zadnji potrošila i gle čuda stvarno potrošila, nisam ga izgubila nakon, mjesec, tjedan ili tek par korištenja.
Nemojte pomisliti da mi je stan kao iz Hoarders housea, dapače bar jednom mjesečno (u one dane) me uhvati manija čiščenja. U napadajima bijesa i jada, to prijeđe i u prevrtanje cijele kuće, pomicanje namještaja i istresanje sadržaja ormara uključeni. Ipak te malene mazalice kod mene uvijek nađu neku rupicu u kojoj će nestati dok im se miris i struktrura ne promijene ili barem dok im zvanično ne prođe rok trajanja.
Kod ovog pakiranja, osim što je od čvrste plastike i nema straha od lomova, koliko god puta vam padne, sviđa mi se i to što nema onog odvijanja, uvlačenja/izvlačenja proizvoda kao kod stikova.
Loptice su doista slatke izgledom a oblik izgleda pomaže i da ga stalno ne gubim i lakše i brže pronađem u džepu, torbi…
Miris je lagan, miriše na jagode, ali ne prenapadno i umjetno, okus je fin, slatkast.
Na usnama je proziran i ostavlja tek mrvicu sjaja.
Sviđa mi se osjećaj koji ostavlja na usnama, usne su meke i glatke.
Nije ljepljiv, težak, ne ostavlja bijele tragove.
Dosta se zadržava na usnama i ne treba ga prečesto stavljati.
U normalnim uvjetima njega koju pruža mi je dovoljna da ne dođe do isušenih i ispucanih usana, a kad mi treba malo jača njega, kad se temperatura spusti i zapušu prve jače bure u akciju stupa Clarins instant light lip comfort oil.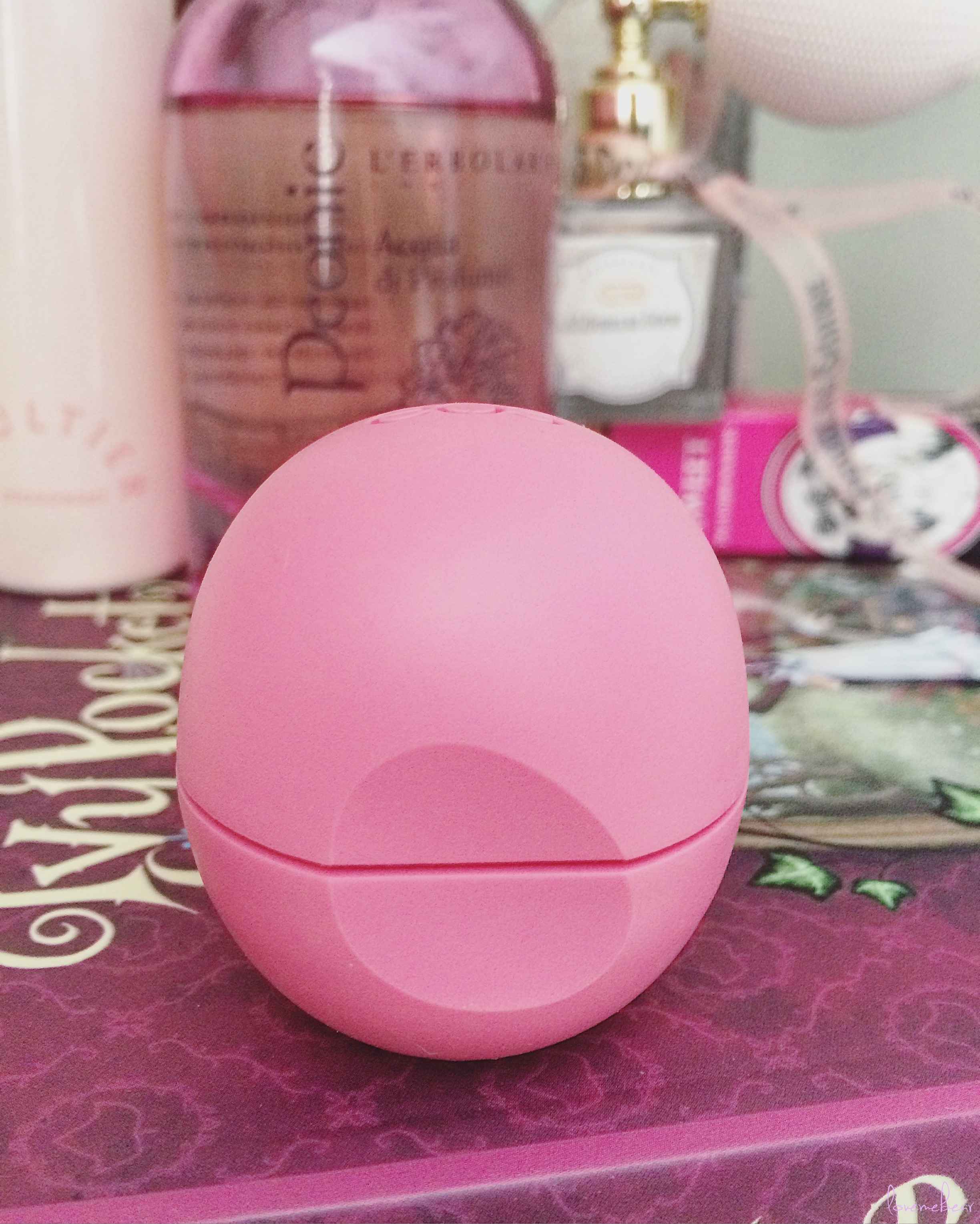 Jedini minus koji mu mogu naći je to što mi se čini da se troši nešto brže od balzama u stiku, a usto cijena mu je malo veća.
Sastojci:
Olea Europaea (Olive) Fruit Oil*, Beeswax/Cera Alba (Cite d'abeille)*, Cocos Nucifera (Coconut) Oil*, Simmondsia Chinensis (Jojoba) Seed Oil*, Natural Flavor (Aroma), Butyrospermum Parkii (Shea Butter)*, Stevia Rebaudiana Leaf/Stem Extract*, Tocopherol, Helianthus Annuus (Sunflower) Seed Oil*, Fragaria Vesca (Strawberry) Fruit Extract*.
*Organic
95 % organski
100 % prirodni sastojci
Show your lips some love with a pink lip balm as delicious and refreshing as the irresistible dessert.* www.evolutionofsmooth.com
Rok trajanja od otvaranja je 24 mjeseca.
Nije testiran na životinjama.
Koji su vaši omiljeni balzami za usne? Da li imate i koju lopticu u svojoj kolekciji?